Subsea Cables have been growing at an astounding rate of 40% CAGR (Compound Annual Growth Rate). Last couple of years have seen a major resurgence in the subsea projects globally. These cables are so crucial to the digital economy, that close to $10 Trillion in transactions takes place each day on these cables globally. There are approximately 448 submarine cables in service globally (as of Sep 2018), representing about 1.2 Million kms of trans-oceanic cable deployed under water around the world. The astronomical growth in demand for capacity on these cables is driven by the growth in – data generation by all of us as users, the appetite for data consumption and 'digital everything' phenomena taking place around us.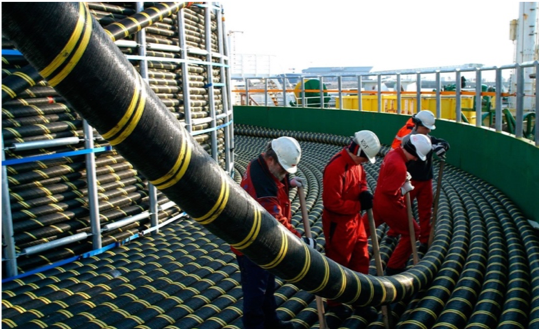 This resurgence in the subsea industry, has led to the formation of many successful new subsea companies, that we like to refer to as the 'New Age Subsea Companies' such as – Aqua Comms, Crosslake Fiber, Deep Blue Cable, Indian Ocean Xchange (IOX), Seaborn Networks, South Atlantic Express (SAEx) to name a few. There are multiple subsea projects underway by these companies in various stages of development spanning the globe and connecting various continents together.
The content providers and over-the-top (OTT) companies have also been investing significantly in the subsea cable systems. The number of cable systems that content providers and OTTs have invested in are – Amazon (3), Facebook (10), Google (14), Microsoft (4). This represents a major paradigm shift in the industry wherein earlier a large number of [international] consortiums (at times 15-20 companies) were formed to fund and implement a subsea cable system. Compare that to the present time, when you have much smaller consortiums (typically 2-3 companies), and at times one single company owning, funding and operating the entire system end-to-end. It costs anywhere from $300-$500M to design and build one subsea cable system. Various complex steps are involved in the lifecycle including – marine survey, desktop study, feasibility analysis, permitting, licensing and various other international legal matters. The lifespan of a subsea cable is ~25 years. Several subsea systems across the Atlantic are nearing their EOL, and this coupled with the exploding demand for capacity together have been the macro driving forces behind the resurgence taking place around us in the subsea industry.
The Virginia Beach Success Story
Virginia Beach has experienced unprecedented success in attracting new subsea fiber cable landings on its shores. In the last ~18-20 months or so the City of Virginia Beach has gone from having 0 subsea cables to 4. These 4 subsea cables are in various stages of development as we speak and will provide a direct and fast connection to different countries and continents of the world. This is a significant development for the state of Virginia, which is the #1 data center market in the world and has ~70% of the world's Internet traffic passing through the state.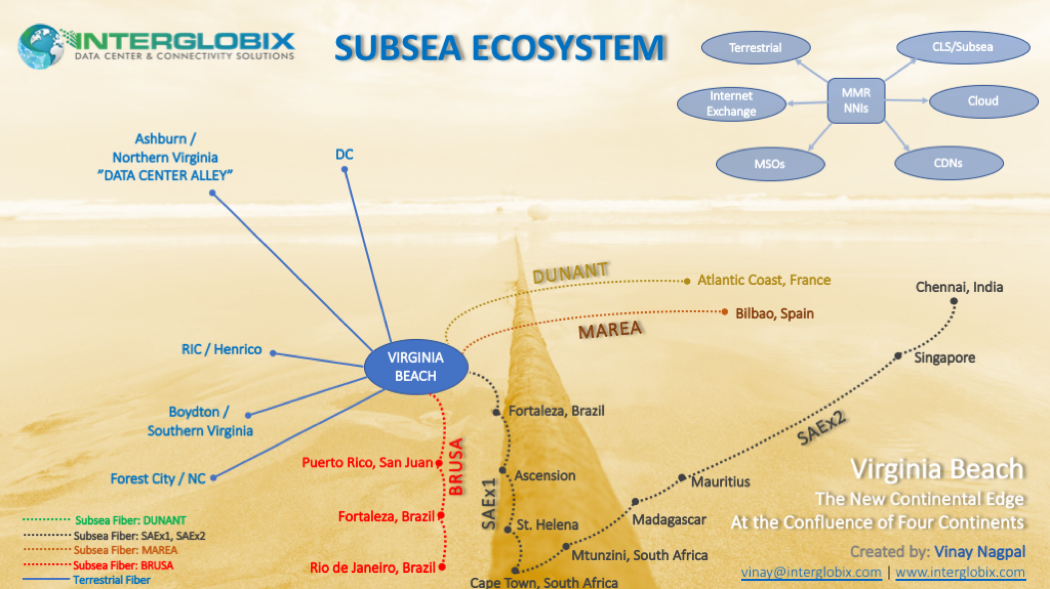 These subsea fiber cables that connect Virginia shoreline to various parts of the world, are extremely crucial to the digital economy and our ever-so-digital lives. By virtue of these cables spanning thousands of kilometers across the Atlantic Ocean, the State of Virginia will have direct, low-latency and high-capacity connectivity to various parts of the world including:
Bilbao, Spain                                                    MAREA                                   8 fiber pairs 6600 kms                        Operational
Rio De Janeiro, Brazil                                    BRUSA                                     6 fiber pairs 4000 kms                       Operational
(with BUs to Puerto Rico, San Juan & Fortaleza, Brazil)
Cape Town, South Africa                               SAEx1                                      6 fiber pairs 13,300 kms                      Development
(with BUs to Fortaleza, Brazil, Ascension, St. Helena)Singapore (from Cape Town)      SAEx2     6 fiber pairs 11,800 kms     Development
(with BUs to Mtunzini, South Africa, Madagascar, Mauritius, Chennai, India)
French Atlantic Coast, France DUNANT                                                   4 fiber pairs          5000 kms                  Development
MAREA is co-owned by Microsoft, Facebook and Telxius, and BRUSA is fully owned by Telxius. These two cables are operational and land at Telxius CLS in Virginia Beach. The SAEx system, comprises of two segments SAEx1 and SAEx2. SAEx1 or South Atlantic Express1 will connect from Virginia Beach to Cape Town, South Africa with Branching Units to Fortaleza, Brazil, Ascension and Saint Helena. SAEx2 or South Asia Express2 will head eastward from Cape Town, South Africa to Singapore with Branching Units to Mtunzini, South Africa, Madagascar, Mauritius and Chennai, India. In essence, SAEx (comprising of SAEx1 and SAEx2) will provide a diverse new route connecting four continents together – North America, South America, Africa and Asia. The system will avoid existing choke points, avoid seismic hazards and ultimately reduce the latency between Asia and Americas and between Asia and Africa. The fourth system announced in DUNANT, which is owned by Google, and will be connecting to the French Atlantic Coast with a partnership with Orange.
The two operational cables – MAREA and BRUSA, both land at Camp Pendelton, a US military reserve facility in Virginia Beach. The City of Virginia Beach along with the Virginia Beach Development Authority (VBDA) is evaluating a second alternative and diverse landing point for subsea cables at Sandbridge Beach. These cables when fully built and operational, will collectively be interconnecting four continents – North America, South America, Africa and Europe – thereby making Virginia Beach at the Confluence of four Continents. Additionally, there are a few other subsea projects that are under various stages of consideration in the subsea industry to land in Virginia Beach.
The City of Virginia Beach has been proactively and diligently working with the industry to make it easy, cost-effective and faster to bring new subsea cables to the port city also now known as the "Digital Port". Some key initiatives underway by the City of Virginia Beach include –
Reducing the tax rate for data center equipment to $0.40 per $100 of assessed value with a depreciation schedule of 40 percent of original cost for the first three years. The depreciation rate for year four is 30 percent and for year five and forward is 15 percent
Streamlining the permitting process for cable landings
Pursuing establishment of cable protection zones
Identifying alternative landing point at Sandbridge to Corporate Landing
Improving city's conduit infrastructure in Corporate Landing
Available Dominion Energy-certified data center sites – Owned by the City of Virginia Beach Development Authority, Corporate Landing Business Park consists of 325 acres of land, of which 160 acres are "shovel ready" and available for development
Summary
The Subsea cables provide the vital backbone of the global Digital Economy. Global Subsea Resurgence will continue for at least the next 3-5 years. Diverse landing points and new business models will continue to take the center stage in this growth driving additional bandwidth capacity under the oceans. The subsea industry will be working more and more closer with the terrestrial fiber industry and the data center industry thus enabling the natural convergence of subsea fiber, terrestrial fiber and data centers.
Thanks to our guest authors: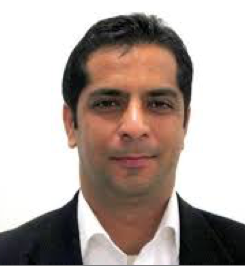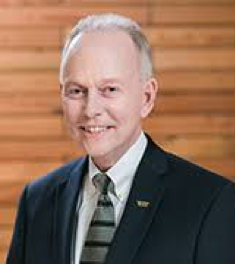 Vinay Nagpal                                                                                                               Rob Hudome
President, InterGlobix                                                                                                        Senior Project Development Mgr., City of Virginia Beach
vinay@interglobix.com                                                                                                       rhudome@vbgov.com
< Go Back
---