Joining Procedure
Our new onboarding online system makes it simpler than ever to join us and if you need us, our team are just a message or a call away.
Step 1 – Acquire your ASN
The LINX membership is open to any organisation with an Autonomous System Number.
Where you acquire your AS number from depends where your network is registered.
Step 2 – Location
Where are you currently located?
Is it at one of our existing LINX network data centre points of presence? (PoPs)
Check our network map now and see.
If yes, you're good to start your application, if no, no problem, just head to step 3 to connect via one of our global partners.
Step 3 – Connecting via a Partner
Here at LINX we work closely with our global carrier partners. They can assist networks in reaching LINX locations.
Check out Our Partners page to see our list of carrier, data centre and IXP partners. See a logo you are familiar with, and let's work together to get you connected.
Reach out to our peering team for more assistance or for a selection of quotes from partners.
LINX for Financial Services Networks
Why LINX?
Be part of a thriving community of like minded networks and industry experts
Peer with the most unique ASNs anywhere in the World at LINX in London

Peer with the LINX Route Server for over 65,000 routes with a

single connection

Get involved in our member meetings which take place three times per year
Your regulatory interests are represented by our Public Affairs team
We are mutual, neutral, not for profit and transparent with our strategic and financial planning
One membership fee for all set at £1200 per year (£100 per month)
World class engineering and a 24/7 on call team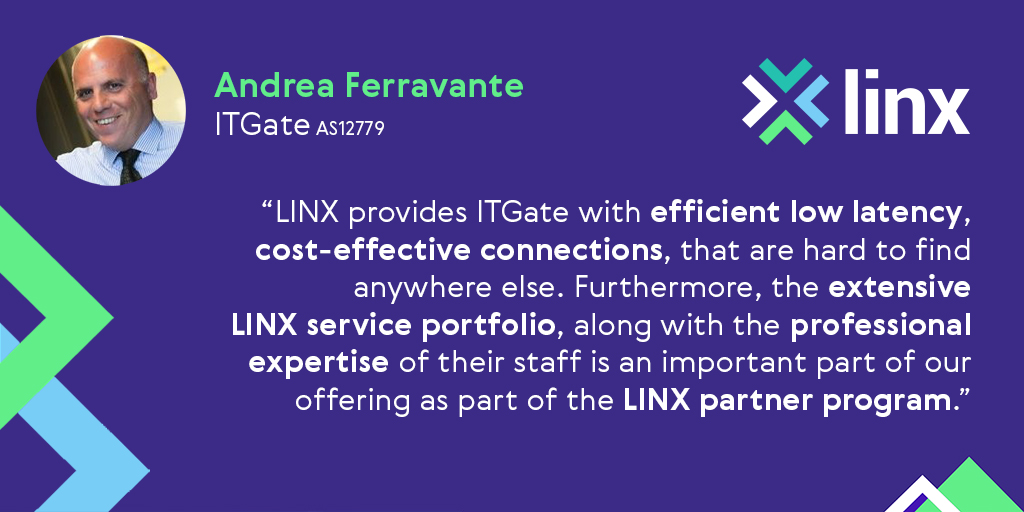 More About Our Partners
Remote Peering - Mastered
LINX work with a number of industry partners from global carriers, data centres, strategic partners and also other Internet exchanges. Whichever starting point members choose for their application, they all benefit and enjoy the great same membership experience.
ConneXions Reseller Partners
ConneXions Resellers are networks that are regularly connecting new members or expect to be and usually have one or more PoPs where LINX also has a presence. ConneXions Resellers are part of the LINX ConneXions Partner Programme. They have an agreement with LINX and LINX also provides them with a free of charge reseller port at the London Internet Exchange they are reselling. Every ConneXions Reseller needs to have one customer they are able to connect in order to qualify for a free reseller port. This excludes 100GE ports for larger resellers.
ConneXions Access Points
ConneXions Access Points are data centres where LINX has a PoP and there are a number of either official or unofficial reseller networks, with the capabilities to connect new members to LINX, present within their facility.
Other facilites that can behave as 'access points' may simply have reseller networks within their facilities that can remotely connect new members to other access points where LINX has a presence.
IXP Partners
LINX works with other mutual not for profit Internet exchange points (IXP) to facilitate peering globally. We consider these partners to be ConneXions Strategic Partners. These types of partners are typically also a remote access point and reseller and can connect to LINX using an existing ConneXions Reseller Partner or through a dedicated connection. The IXP does not have to peer any traffic of their own and connect members using vLAN technology.