Inter.link, a global Network-as-a-Service provider, is excited to announce its partnership with Telehouse and membership with the London Internet Exchange (LINX).
Following the introduction of its first UK point of presence and ongoing mission to provide sustainable, automated connectivity to the internet, Inter.link has strategically chosen to collaborate with two network powerhouses with strong presences in the UK, Telehouse, a provider of industry-leading data centre colocation services, and LINX, one of the largest internet exchanges. Together, they create one of the most important interconnection locations in the world. Telehouse's London Docklands site is the primary home of LINX and Europe's most connected data centre campus.
Along with growing its UK presence, Inter.link and Telehouse share mutual commitments towards sustainability, with the London Docklands site also powered by 100% renewable energy. As part of its continued expansion, Inter.link has also connected with Telehouse in Paris. LINX is a leading peering exchange and continue to expand their reach across the UK, making them an essential connection for Inter.link.
Jennifer Holmes, LINX CCO says;
"We are pleased to welcome Inter.link to the LINX member network in the UK. The organisation is a new and fast-growing Network-as-a Service provider and it's great to hear that peering at LINX in London was top of the agenda when building a new point of presence in the UK."
Will Scott, Telehouse Europe Head of Sales, adds
"We're delighted to welcome Inter.link as our valued customer at Telehouse London Docklands. It's exciting to play pivotal role in their expansion into the UK. Together, we look forward to fostering innovation, facilitating seamless connectivity, and driving the future of digital transformation worldwide. We look forward to developing this partnership to further support Inter.link's plans for global network expansion."
Interlink Co-Founder and CEO Theo Voss comments,
"As we've expanded into the UK it only makes sense for us to partner with Telehouse and LINX given their strong presence in the region. Working with them will help us to provide sustainable connections to our customers in the UK and beyond."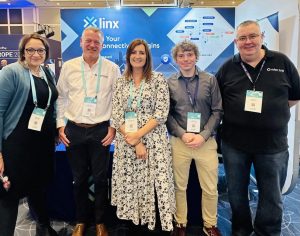 Jennifer Holmes from LINX together with the team from Inter.link and Telehouse Europe.
< Go Back
---