You don't need me to tell you that 2020 has been a year like no other. Everyone has had to change the way they live to some degree as we come to terms of living with a pandemic – it hasn't been an easy time.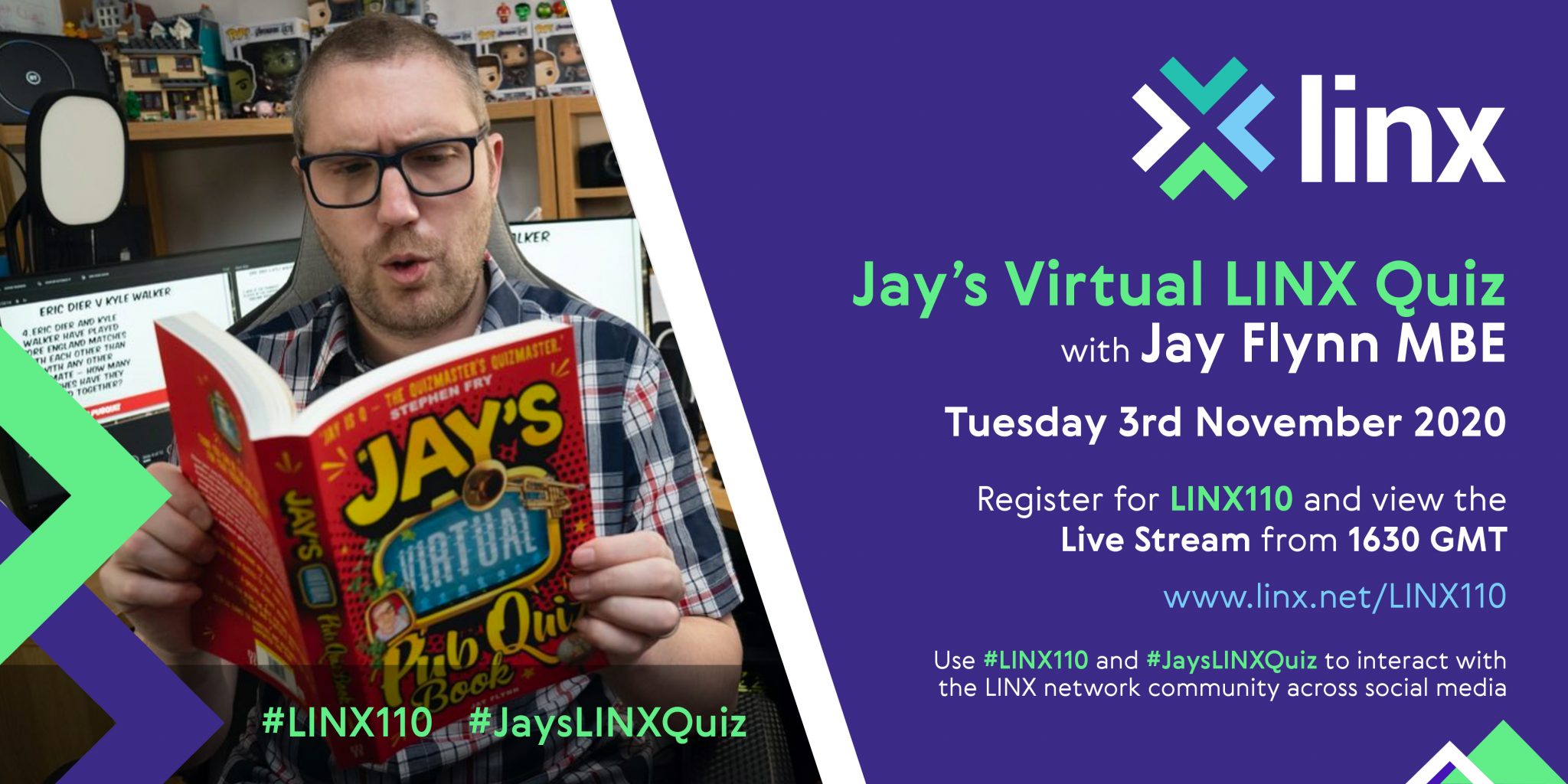 There have been some good news stories to emerge from Covid-19, however. One of these is the remarkable tale of Jay Flynn, a former publican, who had the simple idea of arranging an online pub quiz for a few friends and family. What followed was the very definition of 'going viral' as his weekly quiz attracted the interest of thousands of people all around the world.
If you are unfamiliar with Jay's journey to Internet stardom you can read more about it below. With LINX members playing a part in bringing the online quizzers of the world together we reached out to Jay and we are delighted to announce that he has agreed to host a quiz on behalf of LINX as part of the LINX110 virtual social.
By Jez Orbell, LINX Marketing
LINX110 is being held online from 13:30 BST on Tuesday 3rd November. This will include LINX operational updates and regulatory news from the LINX team plus two technical talks on 5G and RPKI. The virtual social itself will begin at 16:30 GMT and will last approximately 45 minutes with three rounds of 10 questions. There will be a number of techy questions to test your knowledge so make sure you have your pens and paper ready.
For more info on the LINX110 online member meeting, including registration, please go to the event page.
Jay's Virtual Pub Quiz – a Brief History
Jay's first quiz was scheduled to take place on the Thursday after lockdown started on the 23rd of March. It was to be a Facebook Live event but in configuring the listing, he had inadvertently allowed any Facebook user to attend the event. What followed was nothing short of incredible as news of the quiz spread with thousands upon thousands registered their interest in taking part. By the day of the event itself, approximately 500,000 users had responded as attending or interested in the quiz.
Jay's life hasn't been quite the same since. Obviously a hit with the viewers the quiz kept going and growing. Celebrities such as Stephen Fry and Jonathan Ross hosted rounds while singers Gary Barlow and Rick Astley sang during the breaks.
Flynn simulcasts the quiz on Facebook Live and YouTube. His social media strategy has been assisted by Alex Holmes, Deputy CEO of The Diana Award, who contacted Jay after the first week to offer a few hints and tips on promotion. Remarkably, six months later, the pair have still yet to meet in person.
World Record
The 30th April quiz set a Guinness World Record for "most viewers of a quiz YouTube live stream" with 182,513 individual viewers. The following month, Jay received the Prime Minister's Points of Light award with Boris Johnson thanking him for raising the country's spirits.
Jay currently presents a short weekly quiz on Zoe Ball's BBC Radio 2 Breakfast Show and recently published Jay's Virtual Pub Quiz Book. It includes a quote from Stephen Fry, who states that "his achievements form one of the happiest and most hopeful stories to have emerged from the madness of lockdown".
The quiz has always been free to play but has been associated with a number of different causes including the NHS, the Connection at St Martin's homeless charity, Alzheimer's Research UK, Guide Dogs, Air Ambulances UK, The Samaritans, and the Diana, Princess of Wales Memorial Award. In total, well over £750,000 has been raised so far.
In early October, Jay was awarded the MBE for "charitable service during Covid-19". It has truly been a remarkable year for Jay Flynn.
Make a Donation
We are extremely grateful to Jay for agreeing to host the quiz for us. Please show your appreciation by joining us on the day. If you would like to contribute to their designated charities please use the donation links below.
The Connection at St Martin-in-the-Fields – a homeless charity in London
The Diana Award – Anti-Bullying Campaign
Further Information
To find out more about Jay's story please visit Jay's Virtual Pub Quiz Facebook page and interview.
< Go Back
---