The London Internet Exchange (LINX) have just announced their partnership with Microsoft as they become an official provider of the Microsoft Azure Peering Service.
Azure Peering Service is a networking service that enhances customer connectivity to Microsoft cloud services such as Microsoft 365, Dynamics 365, software as a service (SaaS) services, Azure, or any Microsoft services accessible via the public internet.
LINX have been offering internet peering solutions for over 25 years, not only servicing global ISP and content delivery networks, but also a growing number of networks from the wider enterprise sector.
LINX pride themselves as a trusted technical solution, having expanded their interconnection services considerably in the past five years to include cloud access, closed user group solutions, colocation and more. They have a strong presence in London with a dual LAN interconnection facility spanning 16 data centre points of presence (PoPs) as well as regional hubs in Manchester, Scotland, Wales and Northern Virginia in the US.
This new partnership will allow the current LINX member base and new networks to establish direct peering with Microsoft and access public Azure services using LINX's resilient and secure infrastructure. Use of this service ensures that traffic for prefixes registered through the connection enters and exits the nearest Microsoft Edge PoP location on the Microsoft Global Network. In addition, users of the service can opt-in to additional Peering Service telemetry through the Azure portal. This includes latency monitoring and BGP route anomaly detection.
Mike Hellers, Product Development Manager for LINX says;
"We are really pleased to be able to offer this service to our community. We are pioneers for Internet peering within the telecoms sector and to be a Microsoft official partner for their peering service is a great achievement."

"With this new partnership, we can deliver even more value to our current member base, while also welcoming new networks from the enterprise market to LINX as we provide them with a trusted and resilient route to their Microsoft SaaS applications."
This new partnership comes at a very crucial time for many organisations, who have shifted their business online or are providing a 'working from home' solution for staff.
"Here at LINX we are seeing an increase in enquiries from new organisations who want to manage their own network and connectivity solution but need that level of support in accessing the relevant applications. Using LINX to access their Microsoft applications whether it be Teams or Office 365 will mean they benefit from our expertise in this field, whilst also having access to our 24/7 NOC support. We currently have over 1000 networks globally using our infrastructure to run their business effectively or as part of their wider network strategy."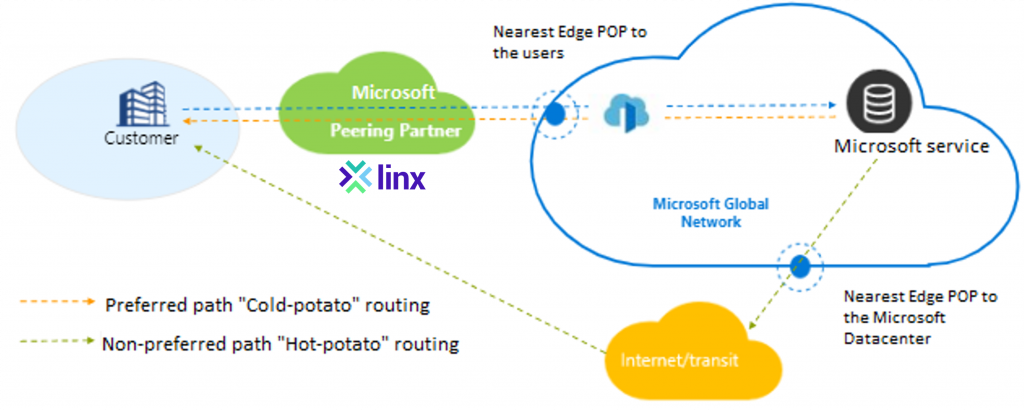 The Microsoft Azure Peering Service is available now at LINX in London. Accessible to any networks connected to LINX's LON1 interconnection platform.
Existing LINX members can head over to the LINX Member Portal to start their Microsoft Azure Peering Service and new networks looking to benefit can contact LINX at sales@linx.net
< Go Back
---