LINX member conferences have been an integral part of the LINX community calendar since 1994. In this blog we take a brief look back at how LINX member meetings have changed over the years and highlight some of the key developments in the exchange's history.


A Century of Events Driving Internet Growth
It's no exaggeration to say that there have been many pivotal decisions affecting the very future of LINX that have been played out at member meetings. In 2000 a very heated debate took place – known in LINX circles as the 'schism' – that could've seen the exchange demutualised and turned into a traditional profit-led organisation. At LINX100, held at the Park Plaza Victoria in London, former Chairman, Grahame Davies, summarised these events stating that had the original proposal succeeded it would have resulted in a very different LINX to the one we know today. Members ultimately vetoed the move, pledging to continue with the ethos of collaboration that led to the exchange being created in the first place.
In another LINX100 talk Simon Lockhart looked into how early iterations of the LINX MoU were making life difficult for particular types of networks to join LINX, notably the BBC. This was a complex issue that took some time to resolve but ultimately opened up the possibility of peering in London to the world. More than a decade later, LINX members were looking at new territories and markets outside its London heartland leading to a focus on regional peering, not just in Britain, but also overseas. It has been by making challenging decisions such as these that LINX has remained at the forefront of the Internet industry for over 25 years.
In the beginning…
The very first LINX meeting was held at the University of London Computer Centre on the 5th August 1994. This gathering actually pre dates the formation of LINX itself which wasn't formally established until the following November. Early meetings were usually arranged on an ad hoc basis but between 1996 and 1998 they were staged every two months. The first conference to take place over more than one day was LINX24 at the Copthorne Tara Hotel in West London in 1999. This event is also notable for starting the practice of staging quarterly two day events in the months of February, May, August and November.
In the early days LINX adopted a far more nomadic approach for hosting its meetings with the first event staged outside England being LINX14 at the Gresham Hotel in Dublin in May 1997. Other locations included Edinburgh (LINX22), Frankfurt in Germany (LINX25) plus a venue well-known to long-time RIPE attendees, the Krasnapolsky Hotel in Amsterdam (LINX28). The last meeting to be held abroad was LINX33 in Paris which incidentally, was the first conference to be attended by long-standing CEO, John Souter, who missed just one meeting thereafter due to illness before retiring at the end of last year.
Following that excursion to France LINX went on to stage 40 consecutive meetings in London from LINX34 in August 2001 until LINX73 in May 2011. The August meeting that year was held in Windsor beginning a pattern of holding the summer conference in venues around the UK. Manchester has staged events three times, Birmingham twice with the first member meeting to be held outside of England in 13 years being LINX90 in the Welsh capital, Cardiff. This was a notable occasion as it saw LINX's first externally appointed Executive Chairman, Murray Steele, attend a LINX member meeting for the very first time. The city again hosted LINX members for LINX106 in August 2019.
In all ten venues we have held more than one LINX meeting but the two that will be most familiar to members are the TUC Congress Centre, which has been used on 23 occasions, and the Goodenough College. The Goodenough was first used for the landmark meeting, LINX50 in 2005, and went on to stage 16 LINX conferences plus a specialist IPv6 meeting in 2009 and an Investigatory Powers Bill workshop in 2016.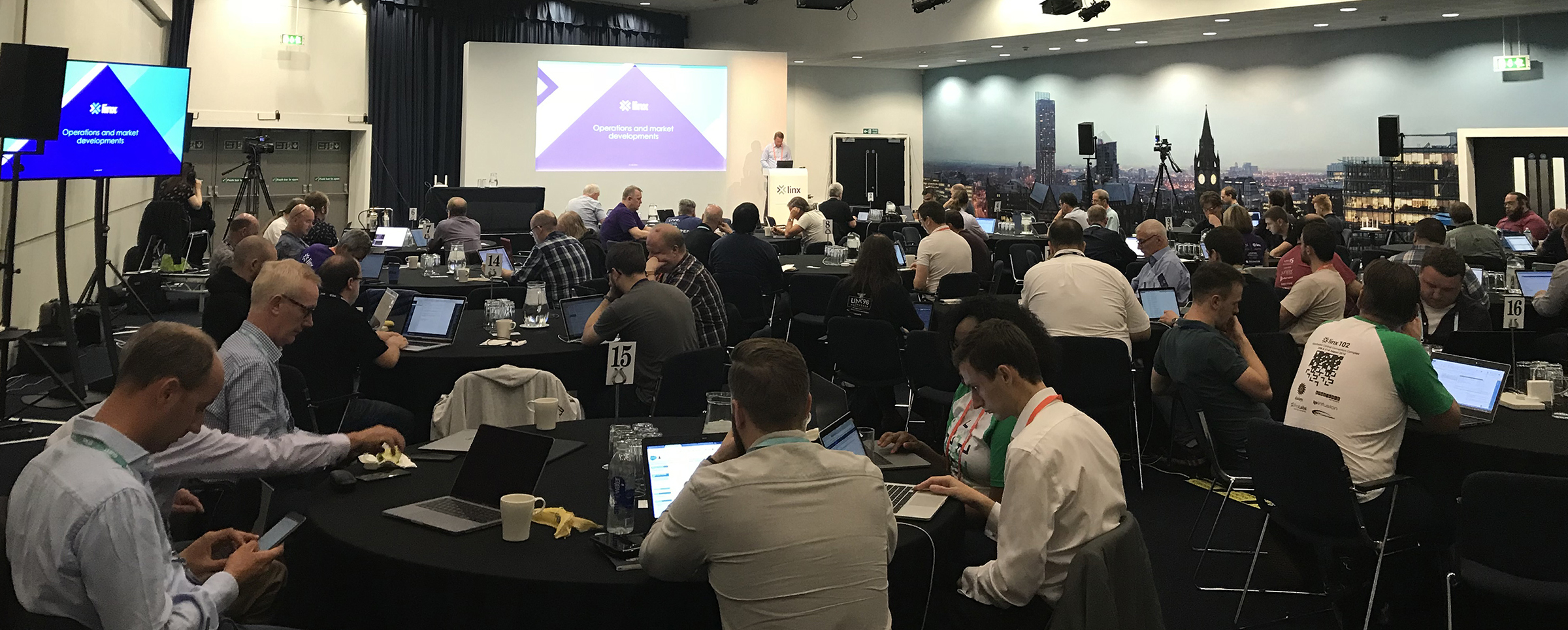 LINX Event T-Shirts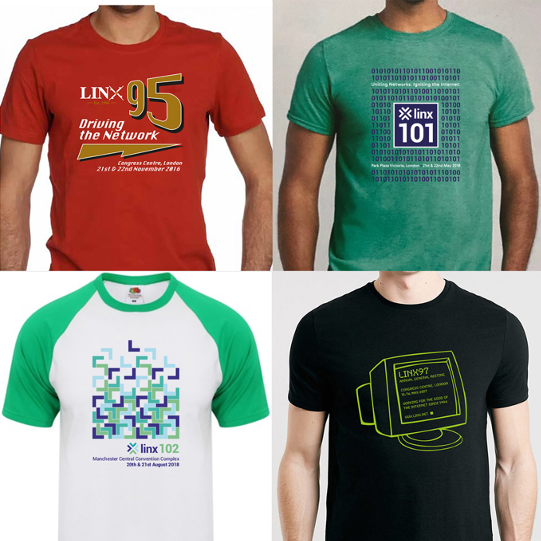 LINX has presented delegates of its member meetings with a T-Shirt for every event since May 2011. Unfortunately this isn't possible for LINX109 but we hope to be able to change that for LINX110 in November.
With key voting decisions still to be made in the AGM and Board elections the LINX109 event was taken online. A two hour Zoom webinar format was agreed upon featuring speakers from the LINX team plus an industry panel on Network Operations under Coronavirus: Operational Challenges and Government Oversight. Moderated by LINX Head of Public Affairs, Malcolm Hutty, the panelists included Mark Pestridge (Telehouse), Neil McRae (BT), Tom Rigg (B4RN) and Dave Freedman (Claranet).
As the the event began there were 179 people registered. Networking and interaction is still considered a really important part of these occaisions which was facilitated with a Chat function and a Q&A facility to ask questions of presenters. After the event a virtual social was held in collaboration with DJs in Tech with a two hour video stream. It's great to know that even in the most difficult times the membership community can come together to continue to drive this industry forward.
For more information on LINX activities, tutorials and webinars please visit our member events page.
< Go Back
---