London Internet Exchange (LINX) has published its 2017 annual report online ahead of its annual general meeting on 22nd May 2018.
The new document features a welcomeLINX Annual Report 2017 cover message from LINX Chairman Murray Steele. Mr Steele reiterates LINX's pledge to provide an exchange platform that meets members' high expectations for both reliability and performance. He noted how this had been reflected both in member satisfaction surveys and performance indicators such as member numbers and traffic volumes.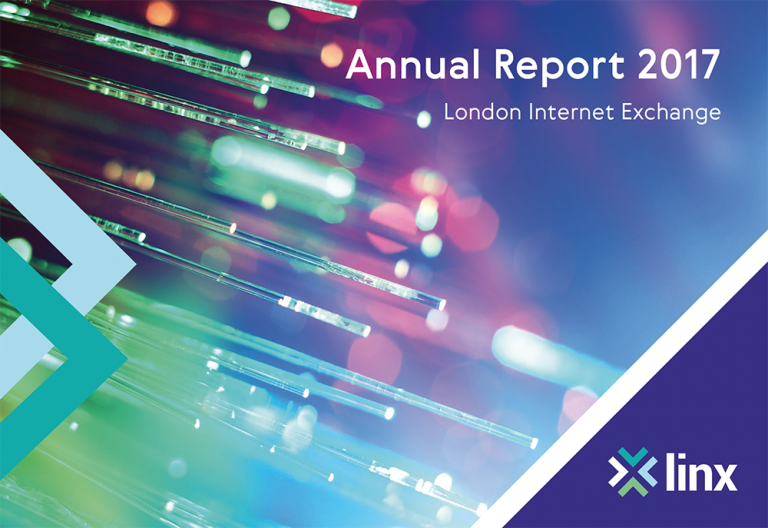 "I am ever conscious that LINX is organised around the principle that the membership is central to everything we do, with a fundamental commitment to the concept of mutuality and the commercial and strategic trust that builds. That means our members can have confidence in LINX as a business partner, so essential when we are a long-term part of your infrastructure strategy."
Murray Steele, LINX Chairman
Network Stability and Investment
Overall 2017 was a year of stability and investment for LINX, both in terms of operational stability and the range of member services. Investment was focussed on improving internal efficiency, new automated configuration management systems while preparing for a future disaggregated model on LON2 network in London.
There were some notable successes throughout the year. LINX connected its one hundredth 100GE port, exceding 800 connected ASNs and passed one thousand 10GE ports in use across all exchanges. In addition a new product, Bi-Directional Optical Transceivers, was launched at the LINX Manchester exchange which is set to be rolled out across other sites in the coming months.
Internet Governance
Malcolm Hutty, LINX's Head of Public Affairs, addressed global Internet governance and domestic and European policy in the governance section of the report. Brexit continued to dominate thinking in policy-making circles, perhaps distracting government from bringing forward many substantial new legislative initiatives. For LINX, the most important regulatory developments were the Network Information Security Directive and preparations for the implementation of the General Data Protection Regulation.
In summary LINX Chief Executive Officer, John Souter, reflected on a strong 12 months for the exchange but also looked ahead to the future.
"As I look to 2018, I expect to report much more visible changes, when our investment in our partnership with EdgeCore and IP Infusion pays off and we deploy a fully disaggregated exchange on LON2. In the meantime, we can be very satisfied that in 2017 LINX has done what it does best, quietly delivering increasing performance and value for members."
John Souter, LINX Chief Executive Officer
LINX101 Member Conference and AGM
Printed copies of the 2017 annual report will initially be available at the LINX101 conference and AGM on the 21st and 22nd May. For those unable to attend this event the report will also be mailed out with the next edition of LINX's news magazine, HotLINX, in July.
Download LINX 2017 Annual Report
< Go Back
---