The London Internet Exchange (LINX) officially published its 2018 annual report and accounts at the exchange's annual general meeting on the 29th May.
The new document features an introduction from LINX Chairman Simon Woodhead, who was separately re-elected to LINX Board during the AGM. Simon had recently taken over as Chair from Murray Steele, who had served as LINX Chair for the previous three years.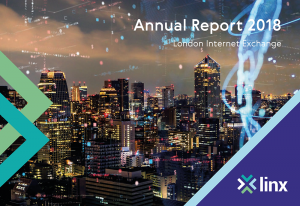 "Murray made a strong contribution to LINX, especially by lending his expertise in corporate governance to modernise the Board's structure and working practices. He helped make the Board much more effective, both as a guardian of the membership's interests and as a supervisor of the executive team, and we are very thankful for his contribution."
Simon Woodhead, LINX Chairman
Adding Value and Creating Opportunities
2018 was a landmark year where technical innovation, changes in governance and a focussed marketing strategy combined to enhance LINX's position as a world leading Internet Exchange Point. On the network side the disaggregated LON2 network infrastructure was introduced with all members migrated seamlessly.
LINX added 141 new 10GE ports and 40 new 100GE ports across all the LINX exchanges during 2018. One of these 100GE ports was the second such port to go live in Manchester, which is very encouraging and a sign of the growth we have seen across all LINX networks.
Also in the report LINX Chief Finance Officer, Malcolm Holt, gave a overview of LINX's financial position. Despite cuts to the prices of LINX services, LINX managed to maintain its revenue levels and contain expenditure growth and this resulted in the reporting of a small surplus. As a not-for-profit member run organisation this puts LINX position for 2019 and beyond.
In summary LINX Chief Executive Officer, John Souter, reflected on a great 12 months for LINX but also looked ahead to some exciting new projects.
"I would like to say how proud I am of our staff, and the great commitment that they show to serving a membership organisation such as LINX. They have enthusiastically embraced an agile way of working across almost everything that they do, and I see improvement projects underway in almost every aspect of working life at LINX. Long may it continue!"
John Souter, LINX Chief Executive Officer
< Go Back
---