15th European Peering Forum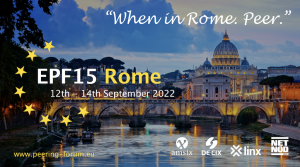 We're back!
It's time for the first in-person European Peering Forum since 2019. We're heading to Rome in Italy with over 300 peering professionals from all across Europe.
LINX Lead Hosts with AMS-IX, DE-CIX and Netnod
12-14 September 2022, Rome, Italy
Staff attending: Holly Ruff, Inga Turner, HalilKama, Jennifer Holmes, Mariano Julia, Nurani Nimpuno, Richard Petrie, Bernard Li
Upcoming Events
LINX will be attending many industry events this autumn. Here's just a selection.
If you have any questions regarding LINX events, please forward them to marketing@linx.net and we will be happy to help.