LINX Network News
ManxIX Appoint LINX as Technical Partner
LINX have announced it has been selected as the technical partner for the new Internet Exchange Point (IXP) on the Isle of Man, ManxIX.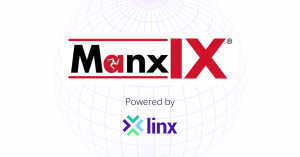 ManxIX, the first and only Internet exchange on the Isle of Man was launched last year. The IXP is based in the BlueWave Carrier Neutral data centre site in Douglas, and currently provides colocation and connectivity solutions for several local and national networks.
The ambition for having an IXP on the island was to not only make traffic routing more efficient by keeping local traffic moving quickly and efficiently between residents on the Island, but also to provide better quality access to media content.
The new partnership with LINX has been established to provide a high grade, future proof technical set up, using the tried and tested LINX set up of a disaggregated network solution.
Industry News Briefing
In our Industry News Briefing we highlight a few of the current news stories relating to the telecoms industry.
If you are a LINX member and would be interested being featured in a future edition of the LINX newsletter please email us at newsletter@linx.net.