Your Low Cost, Redundant and Resilient Connectivity Choice for London
LON2 is the secondary interconnection platform in London. Networks have the choice of connecting to either LON1 or LON2 or both for a resilient and redundant network set up.  LON2 is built using alternative vendors to LON1 and is a stand-alone platform.
A cost-effective solution for interconnection services in London. Networks can access LINX LON2 from over 16 data centre locations in the city.
Join LINX and start peering on LON2 from just £100 a month, this includes your LINX membership fee and a 10G port and 1G peering services.
LON2 Quotation for LINX Members
LINX's disaggregated LON2 platform came into operation in the summer of 2018 with LINX being the first IXP anywhere in the World to implement such a system.
The LON2 architecture, employing EVPN over VXLAN and featuring leaf-spine topology, uses IPInfusion's OcNOS™ network operating system and switch hardware from Edgecore Networks.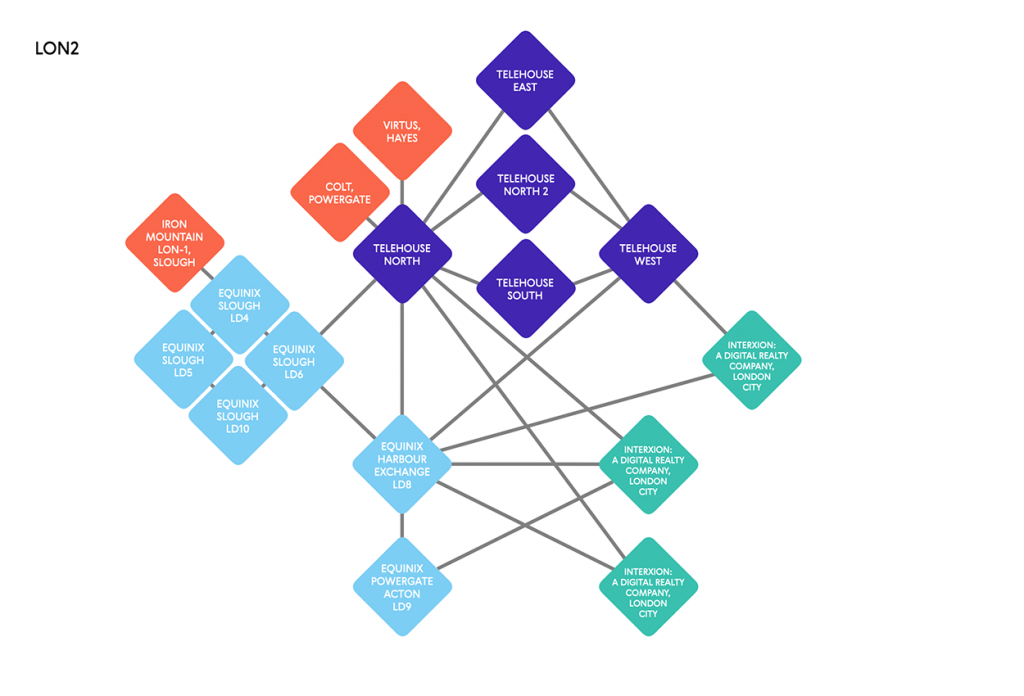 Services Available
Peering
Take control of your network traffic and establish low-latency connections.
Peering is an important element of global Internet traffic is called 'peering', which is usually the settlement-free exchange of traffic between individual service and content providers.
Benefits for your network when peering regionally can include;
Improved performance

Low latency

Greater resilience

Control of traffic routing
Closed User Groups
Connect to two or more sites, suppliers, partners or customers at the same time – all on private connections that put you in control. Ideal for creating a common environment for your suppliers and partners.
Private VLAN
Establish a simple, private connection between you and another LINX member on the same port you use to connect to our peering infrastructure.