LINX welcomes new ConneXions Reseller Partner in Console Connect.
They've recently on-boarded three of Europe's largest and most important Internet Exchanges to the Console Connect platform: AMS-IX, DE-CIX and LINX.
Networks will be able to order a peering port at LINX in London from the Console Connect platform and benefit from everything that the membership has to offer including.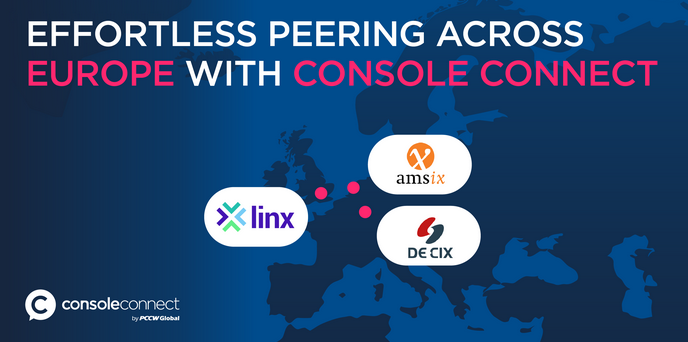 As well as being Europe's main connectivity hubs, Amsterdam, Frankfurt and London also play an important role in the global internet ecosystem. The three cities are home to the world's largest Internet Exchanges – the Amsterdam Internet Exchange (AMS-IX), the London Internet Exchange (LINX) and the Frankfurt Internet Exchange (Frankfurt DE-CIX).
Between them, the Internet Exchanges are responsible for helping hundreds of Internet Service Providers (ISPs), network providers and content providers exchange IP traffic with one another (known as peering). Ultimately, they are improving internet performance and experience for millions of end users worldwide.
console-connect-IXP-connection
Instant access to Europe's largest Internet Exchanges
Mark Stokes, Peering Advisor at LINX says;
"Demand for interconnection and peering is at an all-time high globally. Console Connect provides a more flexible and easier way for businesses to access LINX and meet the network needs of their customers and homeworkers,"
Michael Glynn, Vice President, Digital Automated Innovation at PCCW Global says;
"I'm really pleased to welcome AMS-IX, DE-CIX and LINX to the Console Connect partner ecosystem. Console Connect provides a simple, secure and fast way for carriers, service providers and enterprises to peer with other members at Europe's largest Internet Exchanges,"
"Using an existing port, Console Connect users can instantly provision international or metro capacity to their IX peering platforms, enabling them to peer cost-effectively from wherever they are located."
Provision services through API
Console Connect users can also seamlessly provision services at DE-CIX, LINX and AMS-IX through an open community API that has been designed and developed by the three Internet Exchanges. The IX-API, which was launched on EPF in 2019, provides an interface that supports end-to-end automated processes and enables networks to configure, change and cancel services.
Michael adds;
"By combining the IX-API with Console Connect's own API, it has been easier and more efficient to integrate service provisioning on the Console Connect platform across all three Internet Exchanges,"
Find out more about here.
< Go Back
---