LINX Member Portal Self-Service Features Go Live
Enhancements include instant quotes, port management automation, plus Private VLAN and Closed User Groups 'Invite a Member' functionality
LINX has released a batch of complementary new features on its popular LINX Member Portal. These changes ensure that LINX members, and ConneXions partners, all have even greater control over the provisioning of services on their ports.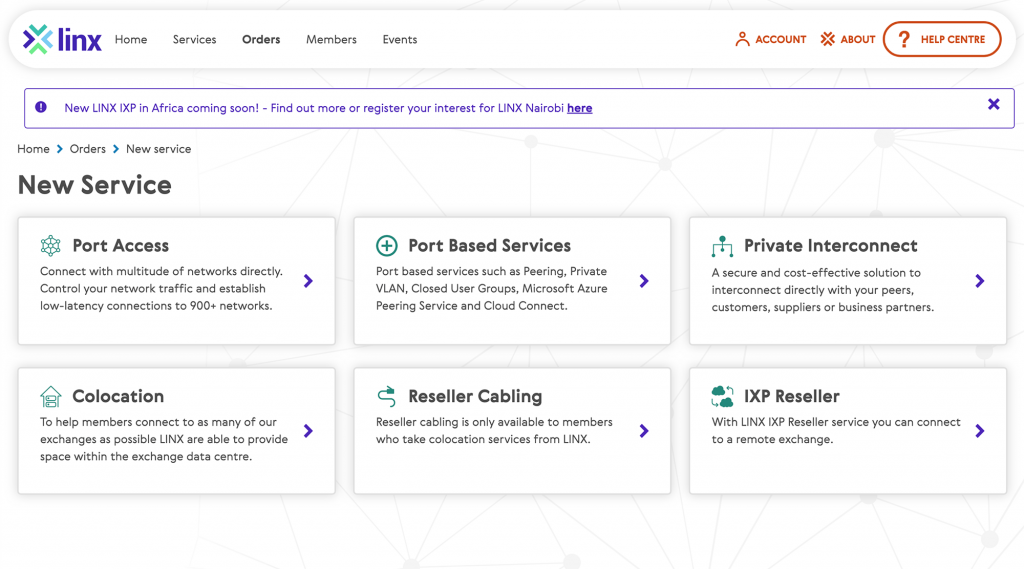 The main elements of the new Member Portal features are:
Enhanced Product and Service Order Forms
The LINX Software team have been working hard to significantly improve the user interface (UI) of LINX product and service order forms. These are designed to help guide members through the process. Users can choose between different options and see pricing information updated in real-time. This means they will be able to select the preferred service at a price that best meets their budget.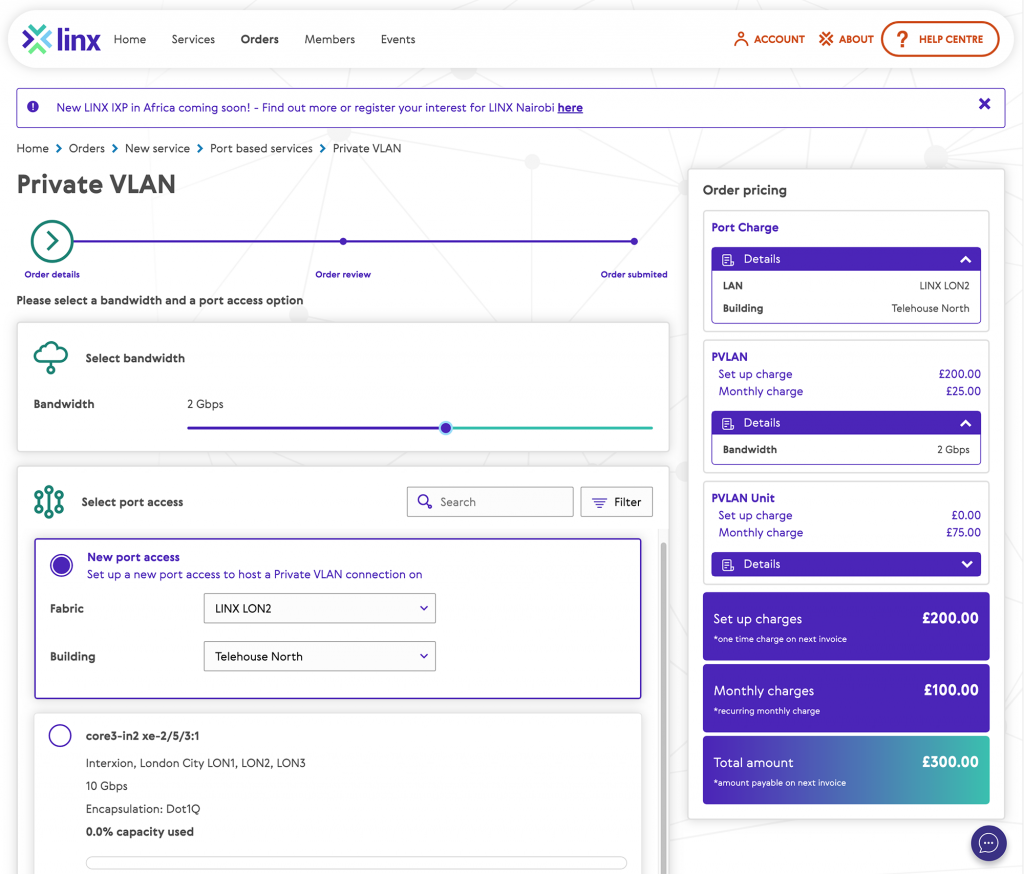 Improved Self-Service Functionality
If a member has a configured their port as a 'multi service' port, and has the required bandwidth available, the order will also become fully automated. This means it will get provisioned immediately through network automation, and display order tracking end-to-end in the portal.
Self-service functionality is available for Microsoft Azure Peering Service (MAPS), Closed User Groups (CUGs), and Private VLAN (PVLAN) for members. It is also available for ConneXions services for reseller partners allowing them to edit their customer services instantly.
Invite a Member Function
These Portal upgrades will benefit all users but will be particularly beneficial for those using the LINX CUG and PVLAN services. They will now have the ability to 'invite' other members to create a connection, i.e. the other end of the Private VLAN, or as new member joining a Closed User Group.
All these improvements are important because they provide peace of mind in knowing networks have an increased level of control in managing their own services.
How it Works
To invite a member to a Closed User Group, go to 'My Services' on the LINX Member Portal and select the Closed User Group option on the left-hand side of the screen. You will then see an option to the right of the page where you can make an invitation.
By clicking on this option, you can select a member from the drop down. If you do not have a contact email, the system will automatically direct your invitation to
The owner can invite other members to join the Closed User Group at any point in time.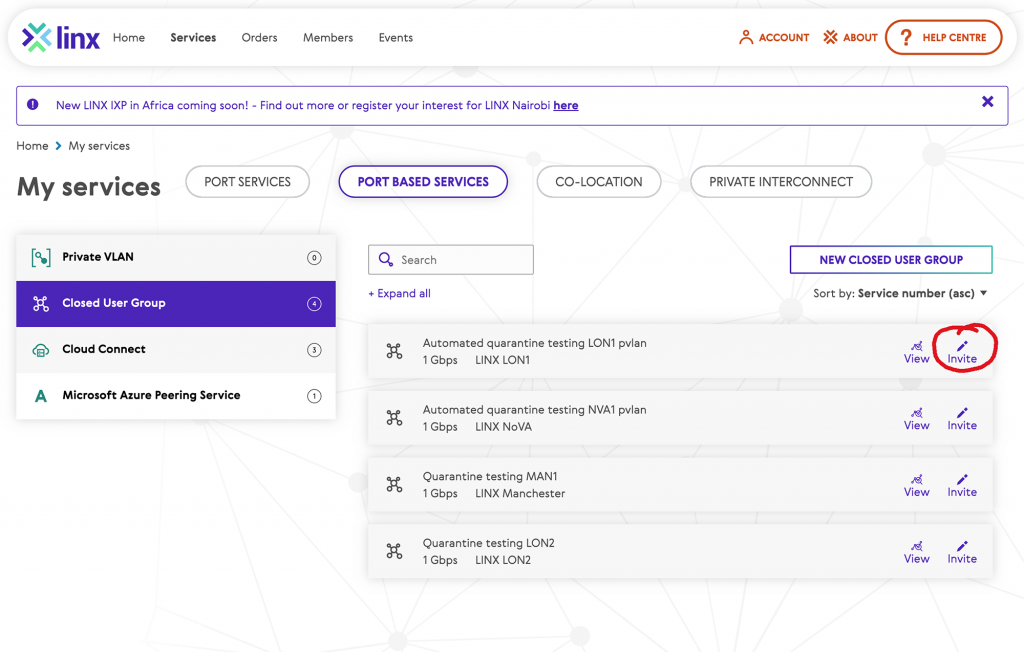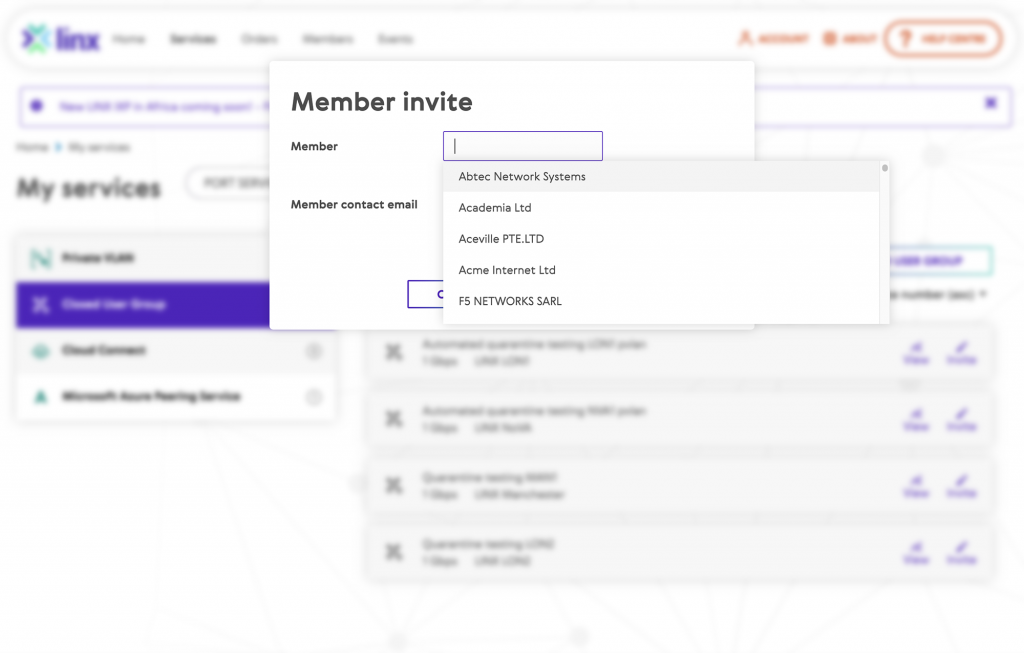 For Private VLAN, where there is only one other member, the 'invite' happens as part of the ordering process, i.e. member A makes an order, and at the same time invites Member B.
The same process applies for selecting the member from the drop down. The system will again automatically direct your invitation to the member Guardian if you do not have a contact email.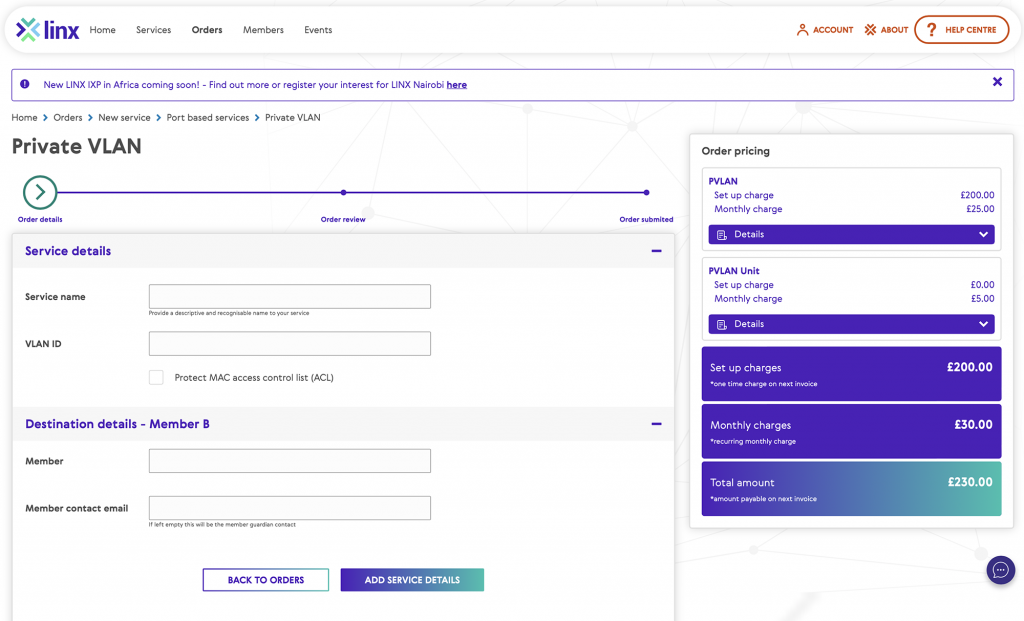 Closed User Groups (CUGs)
LINX Closed User Group allows LINX members to create a common environment to connect multiple sites, suppliers, partners, and even customers – with all traffic passing through one secure connection.
Independent to standard peering, LINX Closed User Group can be provided using a dedicated port, or through a VLAN on your existing port.
Each closed user group is assigned a group controller, giving that member control over the environment, including granting user access, deciding bandwidth allocation, and any other user group amendments that require secure authorisation.
Private VLAN (PVLAN)
LINX PVLAN allows two members to access services directly from each other using the existing LINX infrastructure. This reduces the amount of infrastructure and cross connects needed by members.
LINX Private VLAN services (PVLAN) are available to members on the LON1 and LON2 networks in London, at LINX Manchester, and LINX NoVA in the US.
Further Information
If you want to know more about the LINX Member Portal and the latest enhancements, please contact us.
< Go Back
---